How to choose a Laptop Backpack
In the search for how to choose a laptop backpack, keep in mind this simple truth:
Your laptop has to protect laptop in backpack
Your laptop backpack has to ensure your health
This is a simple truth resumed in a few words. Just keep it in mind while searching for it. Because if your laptop backpack fails in one of these simple tasks, it will be a nightmare rather than a help. Now let's get into further detail.
---
1. A laptop backpack needs a laptop compartment
As simple as it sounds, make sure that your next laptop backpack has a specific compartment for your laptop. As these compartments come in different sizes, ensure that your pc fits in the specific compartment. If your PC is 15″ big, get a laptop backpack that can hold at least a 15″ laptop. If you get a smaller backpack, the laptop won't fit. But you also need to pay attention to not buying a backpack that is too big. In this case, your laptop will be shaken around, and that is bad!
---
2. The compartment has to be padded
A laptop is a delicate item that contains part of your life. Ensure that the backpack's laptop compartment is padded. The padding will absorb hits and concussions for your computer. And this means that your laptop is safe!
---
3. Water-resistant
It is important that your backpack for a laptop can resist some waterfall. Your bag doesn't need to be a scuba diving bag. It just needs to be strong enough to withstand some 5-10 minutes of rain. Imagine yourself after a working day. You pack your laptop in the bag, greet everyone, open the door…and it is raining. Your backpack has to withstand the rain from your office to the subway station (or bus station, or to your car). Because the worst thing that can happen to your backpack is to be soaked in water. Get a water-resistant laptop backpack!
---
4. Adjustable Shoulder Straps
We have highlighted three features to protect your laptop. But it is equally important that your backpack protects your health too. Since backpacks have a deep impact on your spine and shoulders you need to pay attention to some features. The first and most important are adjustable shoulder straps. Carrying your backpack at the right height ensures comfort and a healthy posture. Therefore you need adjustable shoulder straps. These will also help you to carry different loads in your backpack and adjust to another person's needs. Make sure that the straps are strong and fixed. It is a no go if they loosen up themselves.
---
5. Wide Padded Shoulder Straps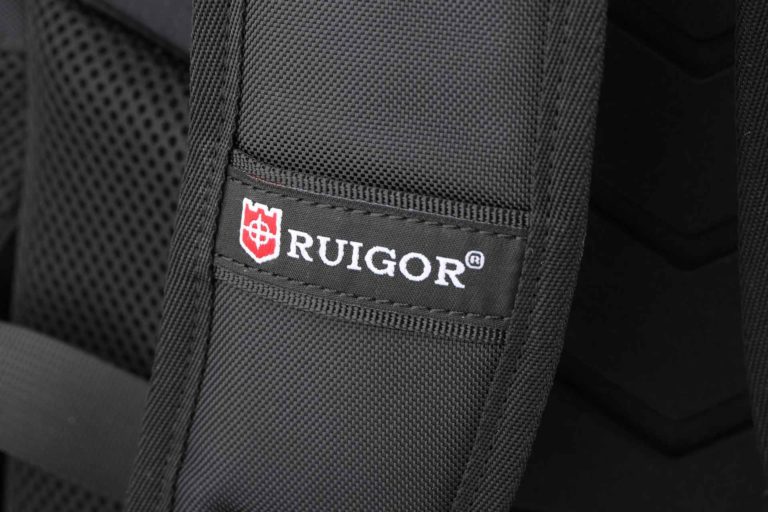 Padded shoulder straps increase the comfort of your backpack. Since backpacks are sometimes heavily loaded, it is great to choose one with wide padded shoulder straps. The weight will be evenly distributed on your shoulders, making it feel less heavy than it is. The pads will ulteriorly even the weight so that you won't feel the weight along a thin line (as in unpadded-thin shoulder straps).
---
6. Anti robber features
Let us be clear. Not everyone needs a laptop backpack with extra safety features. But if you live in a place with high criminality, it is advisable. Hidden zippers, zippers with lock options, and a protected laptop compartment all increase your security. If you are particularly concerned with this issue, click here to discover some extra safe laptop backpacks.
---
7. Beyond the laptop
Since you usually don't just have a laptop to carry, think a little bit beyond the sole laptop functions. Do you need a tablet too? Then get a backpack with a laptop and tablet compartment like this. Will you use the backpack in your free time? Then get a backpack with some external bottle holders like this. Do you need extra-strong padding to commute worry less? Get a 360 degree protected backpack like this. Consider your extra needs and how to choose a laptop bag accordingly. Many backpacks have a versatile use that fits the urban life. At Swissruigor we have specialized in this. So you don't need to buy a backpack for every occasion, but rather have one for all.
---
Conclusion
How to choose a laptop backpack is an easy evaluation game. Swissruigor is specialized in this sector. We have developed a wide range of products for your daily needs. We are particularly proud of our smart backpacks with perfect internal organization. As many people need a laptop backpack to commute to the office, we have organized them to keep everything in place. So you arrive at the office in perfect condition, ready to start the day organized. Not only will your computer be in perfect condition. Even your pen, documents, Kindle, etc. have their own pocket. With Swissruigor you are the best-organized person in your office!