Gym Bag – Making your workout worry less!
A Gym is a place of sport, workout, and sweat. Concentration, hard work, and endurance. Protein shake, shower, sport outfit, gym bag. Of wet towels, sweaty shirts, sports shoes. An after-work activity for some, a life goal for others.
When hitting the gym, it is handy to have the right gym bag. So you can focus on your workout goals instead of wondering where your clothes are, how to carry your sports shoes, where to put your smartphone…And the proper sports bag will do exactly that.
Special Features
Ruigor's gym bags are top-notch products in this category. We have used all our expertise in backpacks, backpacking, and usability to create highly specialized gym bags. We use the best elements of the "intelligent organization" to keep your gym bag clean, tidy, and in order. To find everything when you need it, our sports bags have multiple internal and external pockets. And because you probably need an extra pair of shoes when hitting the gym, we have given our gym bags an extra pocket for your shoes. So, you can keep their sweat and smell far from your clothes. This extra shoe pocket comes in handy also handy when traveling. It has a small airlock to ventilate your shoes since they might be sweaty after your workout.
The water-repellent materials keep your belongings safe. A quick rain won't affect your items. So you can carry your tablet or even laptop without worries in your sports bag. This is also handy if you use the bag to travel. It adds that extra element of security so that you can focus on what matters the most, instead of worrying about your bag!
Our gym bags are made of Polyester, a superlight, and resistant material. We are sure that you work out hard in the gym, and don't need some extra weight lifting before and after the training. We think that even a straw weighs heavy on a long journey, and so we try to make our bags and backpacks as light as possible. There is no reason for a gym bag to be heavy, and since the Polyester material is as resistant as it can get, we didn't even need to find a compromise between quality and weight. 
A brief introduction to RUIGOR's gym bags:
The Small One
A frontal view of our smallest gym bags.

Many pockets for comfort and ease of use.
Internal pockets for your precious belongings.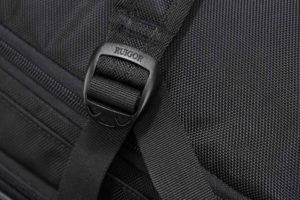 Adjustable straps for extra comfort…
…and handy external pockets.
The practical one
From the front…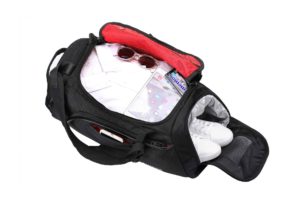 …view from the top with items…
…the separated shoe bag…
…a big side pocket for important items…
…and a view of the detachable shoulder straps. You can carry this bag even as a backpack!
Exuberant style
  Front view. Slick and smooth…
…comfy and practical…
…useful internal pockets…
…also practical for short trips…
…close image of the water-repellent zippers…
…practical handle…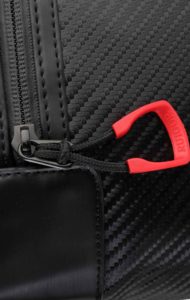 …and quality zippers!
The professional
Our second larges gym bag…
…with its big capacity…
…shoe compartment…
… the ventilation system…
…quality zippers…
…and the unmissable smart pockets!
The big one
And finally our largest gym bag…the Motion 12…
…with its great capacity, you can use it for a wide variety of reasons.
…the extra shoe bag is perfect for the gym and travels…
…for extra comfort and cleanness, we have added the taps on the bottom. So your gym bag remains top-notch even on wet surfaces.
  And the vertical carry option makes it a comfortable and handy option to hit the gym and travels.